«
Island Chef Academy Prize
|
Neopets Down for Maintenance
»
Snowager Alert && Sandy Foods
Bettina asked me if I could add a Snowager Alert to our Page, so she wouldn't have to remind everybody constantly of it in the chat. Well now you will, three times a day, see the Snowager Alert in our Neopian Calendar 😉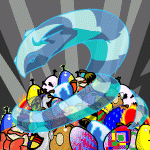 Someone trying to put me asleep again?
We also have some new Gourmets to announce. This time, you should add plenty of water, since they seem quite sandy.


This fits the Gourmet taste of a Pharaoh.
This entry was posted on Saturday, April 24th, 2010 at 2:48 pm and is filed under Gourmets, Information. You can follow any responses to this entry through the RSS 2.0 feed. Both comments and pings are currently closed.
One Response to "Snowager Alert && Sandy Foods"
|
|