«
How to annoy your uni
|
Neopets Avatar Import
»
Happy New Year!!!
And what a year it has been. Coming from a brand new start-up in January of 2010, we have have grown more and more throughout the Year.
We added slowly more and more sections again on our S2 Site with Book histories, rare stamp guides, as well as the Dailies page that gets tons of views every day. A great thank you for that page goes to our great Muppet zealon304 for keeping that site always up to date, with all the Plots and events that you need to have a look at every day.

PARTY!!!!!!!!
We also can not forget our most beloved section of the Site, the Database for all the loving Collectors. It has been a big ongoing project, with only mrs_weasley13 and I working on pricing and keeping Items up to date. None the less we still can happily say that it's been a pleasure to put the work into it for our constantly growing user base.

So much to do!!!
I am really Happy to see that I get so much positive feedback from everybody on the additions I have put into the Database and Site, like the latest one, your trophy countdown.
We are also really close finally on having all the Items back fully up to date, and are thus planning on adding a few new staffers this year to help us out with the Database.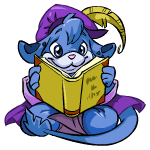 Is it already so late? Just one more Chapter hehe
We will of course keep up the great work for this coming year, and have more exciting things in store of all our Collectors.
And on that note I wish everybody once more a HAPPY NEW YEAR!!!!!

Andulien
This entry was posted on Sunday, January 2nd, 2011 at 4:19 am and is filed under Database, Information. You can follow any responses to this entry through the RSS 2.0 feed. Both comments and pings are currently closed.