«
Advent Calendar Boochi book
|
S2Bookworld Down
»
Happy New Year Neopian Collectors
Happy New Year everybody, and to another great Year. I want to thank all our enthusiastic visitors who keep coming back to enjoy our feature rich site for Neopian Collectors. To another great year of new features, new Neopets events, and most importantly a bunch of new items, that all of us can collect.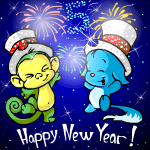 Party!!!!!
I also want to give a special thanks to our great team of DB-Item pricers, content and News writers, who work with me daily to bring you this great site. It has been truly enjoyable working with all of you. Also thank you for all the feedback we have been getting along the way from our visitors, so that we were able to continue and improve our site and keep the Information up to date. THANK YOU!!!
I wish all of you once again a Happy New Year, and may you have a great start into it.
This entry was posted on Monday, January 2nd, 2012 at 12:47 am and is filed under Information. You can follow any responses to this entry through the RSS 2.0 feed. Both comments and pings are currently closed.