Collectable Cards Guide



Why to start? | Where to start? | What are the Card Rarities?

Why would you want Collectable cards?
For many years Neopets cards enthusiasts collected cards simply to collect them. In summer of 2012, TNT made a
high score table
for cards, and some shiny new trophies to go along with them. Your cards are viewable in your
Neodeck
.
A few of these cards will also get you avatars:
| | |
| --- | --- |
| | Add the "Fire Paw" trading card to your neodeck. |
| | Search for Galem Darkhand collectible card and look at the entry. |
| | Beat Kasuki Lu in the Battledome. To get him as a Battledome challenger – have a Kasuki Lu Collectable Card in your inventory and click on the item. The avatar notice will appear in the pop-up window. |
| | Have Niten Hiroru card in inventory and look up the Niten Hiroru Neopedia Article. |
| | Visit the TCG album of anyone with Scordrax card in it while carrying a scorchio item in your inventory. |
| | Go to the TCG checklist and click on The Darkest Faerie card. Confirmed that this can only be done between 10pm and 5am NST. |
One further reason for searching out a collectable card is to satisfy a quest for a faerie. The Light faerie, Illusen, and Jhudora all have a reputation for asking for these cards for their quests.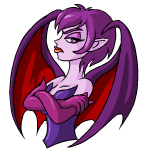 Can you get me a Collectable Card???
Where can you get cards you ask?
You can buy them at the
Collectable Card Shop
. Booster packs of cards can also be found at the
Toy Shop
. Here are the various booster packs that are available from the shop:
| | |
| --- | --- |
| Acara Booster Pack | Blumaroo Booster Pack |
| Bruce Booster Pack | Buzz Booster Pack |
| Count von Roo Booster Pack | Kauvara Booster Pack |
| Kiosk Wocky Booster Pack | Kougra Booster Pack |
| Kyrii Booster Pack | Lupe Booster Pack |
| Peophin Booster Pack | Uni Booster Pack |
If you are very lucky, you get a card though a random event!

Something has happened!
A Scorchio in a pointy, purple hat hands you a Trading Card and says, "This will be a nice addition to your album!"
Another possibility is earning a card from redeeming a Treasure Map set. Some people have gotten a rare holographic card this way.










Card Rarities
These cards are conveniently color coded according to rarities.

| | |
| --- | --- |
| | Blue Collectable Cards have a Rarity of: r30-40 |
| | Red Collectable Cards have a Rarity of: r41-50 |
| | Pink Collectable Cards have a Rarity of: r51-60 |
| | Green Collectable Cards have a Rarity of: r61-70 |
| | Purple Collectable Cards have a Rarity of: r71-80 |
| | Black Collectable Cards have a Rarity of: r81-90 |
| | Gold Collectable Cards have a Rarity of: r91-99 |
| | Holographic Collectable Cards have a Rarity of: r100-110 |